Michael L. Platt
Michael Platt is the James S. Riepe University Professor, Professor of Neuroscience, Professor of Psychology, and Professor of Marketing. With appointments in the Perelman School of Medicine, the School of Arts & Sciences, and the Wharton School, Platt works at the intersection of economics, psychology, and neuroscience.
Neuroscience, Psychology & Marketing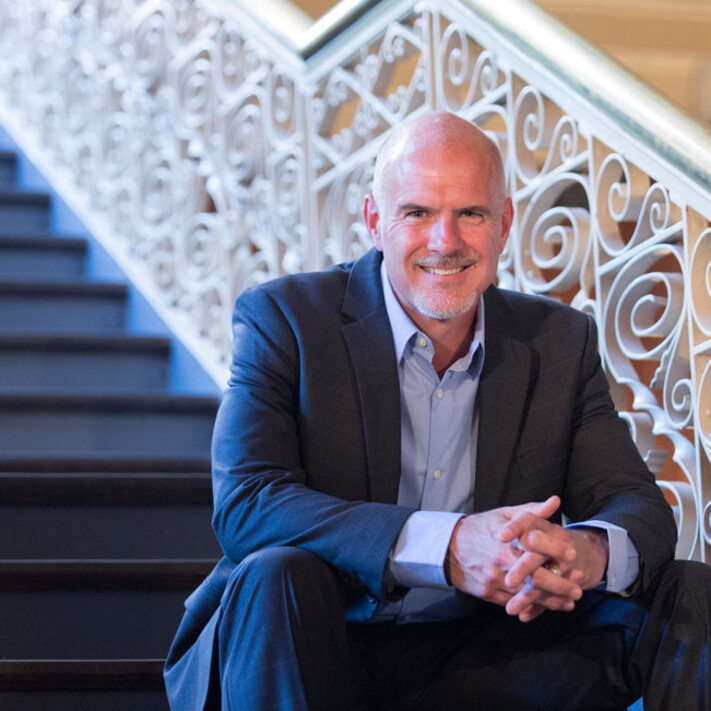 Michael Platt is known for asking some of the most challenging questions in 21st century neuroscience—and conceiving innovative ways to find the answers. His principle questions focus on the biological mechanisms that underlie decision-making in social environments, the grasp of which has broad-scale implications for improving health and welfare in societies worldwide.
Platt's unquenchable quest for answers has led him outside the traditional boundaries of neuroscience: his broad expertise in psychology, economics, evolutionary biology, and ethology, in addition to his collaborations with colleagues in these fields, have enabled him to reach ever-deeper levels of understanding about the neural bases of cognitive behavior.
Platt's pioneering of the field goes beyond breaching its boundaries: he was among the small cadre of scientists who first rejected the long-held idea that decision-making is a reactive sensory-motor process. Instead, he adopted an economic-mathematical approach to studying its physiology, setting a precedent that has changed standard practice in the field. His particular quantitative approach has established a more realistic method of inquiry that yields improved analyses of data sets in brain research.
A former president of the Society for Neuroeconomics, Platt publishes regularly in top-tier scientific journals and has been featured in prominent TV, radio, print, and online media. With the support of such agencies as the National Institutes of Health, Sloan Foundation, Klingenstein Foundation, McDonnell Foundation, and Department of Defense, he's produced seminal articles that have been collectively cited over 4,000 times. Platt's expertise is sought after outside the realm of academia, as well, leading him to serve in science advisory roles for three major motion pictures and the acclaimed PBS TV series, NOVA.
Platt's appointment signifies his return to the place that fed and fostered his passion for using novel combinations of knowledge as tools for discovery: he left Penn with a PhD in biological anthropology, and two decades later returns with a host of international partnerships and an extensive body of groundbreaking work in tow. His presence at Penn, now as a PIK Professor, will significantly advance the University's global leadership in neuroscience, psychology, and economics by creating pathways to new knowledge and applying this knowledge in ways that influence health outcomes for individuals and populations around the world.
Animal Learning and Behavior
Control of Action
Decision Processes
Individual Differences and Behavior Genetics
Brain and Society
Circuits and Behavior
Neurological and Neuropsychiatric Disorders
Neural Basis of Decision-making
Neural Basis of Social Behavior
Evolution of Cognition
Books
Neuroscience 5th ed., 2012

Primate Neuroethology, 2013


Principles of Cognitive Neuroscience, 2nd ed., 2012

Principles of Cognitive Neuroscience, 2008
Academic Writings (Selected)
Ebitz RB and Platt ML. (2015) Neuronal activity in primate dorsal anterior cingulate cortex signals task conflict and predicts adjustments in pupil-linked arousal. Neuron, 85(3):628-640.
Brent LJN, Heilbronner SR, Horvath JE, Gonzalez-Martinez J, Ruiz-Lambides AV, Robinson A, Skene JHP, Platt ML. (2013) Genetic origins of social networks in rhesus macaques. Nature Scientific Reports. 3:1042.
Chang SW, Barter JW, Ebitz RB, Watson KK and Platt ML (2012a)  Inhaled oxytocin amplifies both vicarious reinforcement and self reinforcement in rhesus macaques (Macaca mulatta).  Proc Natl Acad Sci, 109, 959–964.
Chang SW, Gariepy JF, and Platt ML (2012b) Neuronal reference frames for social decisions in primate frontal cortex. Nature Neuroscience. Dec 23;16(2):243-50.
Hayden, B.Y., Pearson, J., and Platt, M.L. 2011. Neuronal basis of sequential foraging decisions in the macaque. Nature Neuroscience. Jul;14(7):933-9.
Shepherd, S.V., Klein, J., and Platt, M.L. 2009. Mirroring of attention by neurons in macaque parietal cortex. PNAS 106(23):9489-94.
Hayden, B.Y., Pearson, J., and Platt, M.L. 2009. Fictive reward signals in anterior cingulate cortex. Science 324:948-50.
Platt, M.L. and Huettel, S.A. 2008. Risky business: the neuroeconomics of decision making under uncertainty. Nature Neuroscience 11(4):398-403.
For a full list of publications, visit Dr. Platt's CV
Features (Selected)
"Crowd-sourcing optogenetics data to tackle neurological diseases," Penn Today, October 19, 2020

"Thrashed by Hurrican Maria, Monkey Island Tries to Rebuild, Bolstered by Scientific Community," Penn News, September 28, 2017

"Social Ties Boost Longevity in Female Macaques, Penn-led Study Finds," Penn News, May 17, 2017

"Pairing Business and Neuroscience," Penn Current, May 11, 2017

"Michael Platt Receives MERIT Award Given to Fewer Than 5% of NIH-funded Investigators," Penn News, May 3, 2016

"Brain Stimulation Holds Promise in Autism Treatment," Newsweek, September 24, 2015

"Rationing Ravens and Merciful Monkeys: Can Animals Be Altruistic?" The Guardian, January 26, 2015

"Generosity and the Social Brain, One Neuron at a Time," National Geographic's "Phenomena,"    December 12, 2012

"Exposure to "Love Hormone" Increases Prosocial Behavior in Monkeys," National Geographic, January 9, 2012

"In That Tucked Tail, Real Pangs of Regret?" New York Times, June 1, 2009

"Like Humans, Monkeys Can Be Snobs Too," ABC News, March 2006

"Monkey Pay Per View," New York Times Magazine "Year in Ideas," December 11, 2005

"Monkey See, Monkey Go All-In," MSNBC, August 2005


"Monkeys Go Ape for a Little Allure," The Guardian, February 13, 2005
Interviews (Selected)
"Leaders in Social Neuroscience: An Interview with Dr. Michael Platt," Social Neuroscience at New York University, September 3, 2013

"Status-Conscious Monkeys Shed Light on Celeb Obsession," ABC News, March 30, 2005
Videos (Selected)
"Peacocks, Eye Tracking, and the Brains Behind Decisions," Penn News, March 28, 2017

"The Science of Friendship," Ignite Philly, April 27, 2016

"How We Decide: The New Science of Neuroeconomics," Penn Arts & Sciences 60-second Lectures, April 27, 2016

"Why Friendship Is One of Our Most Basic Needs," Huffington Post, February 24, 2016

"Brain Power," World Economic Forum, February 23, 2016

"This Is Your Brain on Decision-making," Knowledge@Wharton, October 29, 2015

"Primates of the Caribbean," ARTE Network, France, 2013

"The NeuroEconomics of Innovation," California Academy of Sciences, April 25, 2013
Audio (Selected)
"A Glimpse into the Future: Neuroeconomics," World Economic Forum, July 20, 2017

"Are You a Superforecaster? What Good Decision-makers Have in Common," (with Barbara Mellers) Knowledge@Wharton, March 7, 2017

"NeuroTalk Episode 2: Michael Platt,"  Stanford Institute for Neuro-Innovation and Translational Neuroscience, January 31, 2013
TV & Film Credits
Vice, HBO, 2017, featured

Noah, Warner Bros., 2014, consultant

NOVA, 2012, scientific advisor

Black Swan, Warner Bros., 2011, consultant

The Fountain, Warner Bros., 2006, consultant 
James S. Riepe
Honoree
As chair of Penn's Board of Trustees from 1999 to 2009, James Riepe, W'65, WG'67, Hon'10, led the University through one of its most successful decades in history. Mr. Riepe also served as Chair of the Penn Medicine Board and its Executive Committee from 2010 to 2011, during which time he oversaw the continued growth of Penn Medicine, including the opening of the Roberts Proton Therapy Center and Smilow Center for Translational Research, the renaming of the Perelman School of Medicine and the transition to new leadership for Penn Medicine. In 2010 he was awarded an Honorary Doctor of Law degree from Penn's Law School. He was also awarded Penn's Alumni Award of Merit in 2014.  
Professor
Michael Platt was named the James S. Riepe University Professor in June 2015. He was the 16th PIK professor to be recruited to Penn.
Education
Post-doctoral Fellowship, New York University (Neuroscience)
Ph.D., University of Pennsylvania (Biological Anthropology)
B.A., Yale University (Biological Anthropology)
Professional Positions & Affiliations
Society for Neuroeconomics, governing board member
Society for Neuroeconomics, president (2008-2009)
Silvio O. Conte Center for Oxytoxin and Social Cognition, Emory University, external advisory board member
Marcus Autism Center, external advisory board member
MacArthur Foundation, ad-hoc reviewer
Medical Research Council, UK, ad-hoc reviewer
Frontiers in Comparative Psychology, associate editor
Frontiers in Decision Neuroscience, review editor
Additional Penn Profiles
Contact
Perelman School of Medicine
Department of Neuroscience
415 Curie Blvd.
211 Clinical Research Building
Philadelphia, PA 19104-6074
919.280.8876 (o)
mplatt@mail.med.upenn.edu
Wharton
745 Jon M. Huntsman Hall
3730 Walnut Street
Philadelphia, PA 19104-6304 
mplatt@wharton.upenn.edu