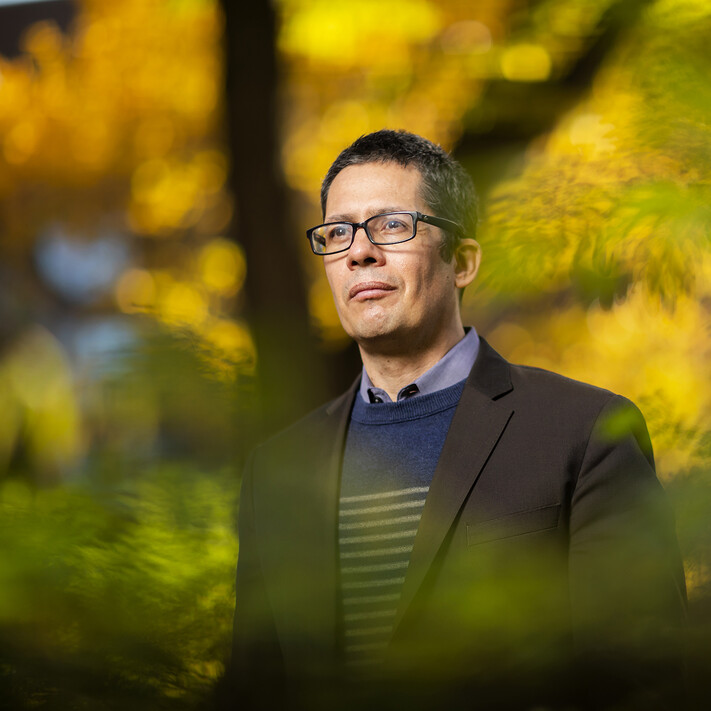 Roberto Gonzales is the University of Pennsylvania's twenty-fifth Penn Integrates Knowledge University Professor, effective July 1, 2021.   Gonzales, a world-renowned scholar of the lives of immigrants in the United States, will be the Richard Perry University Professor, with joint appointments in the Department of Sociology of the School of Arts and Sciences and in the Graduate School of Education.
"Our Penn Compact vision calls on our University community to build bridges and cross borders to spur innovation and improve understanding. Roberto Gonzales's highly respected and celebrated work on immigration – on the experiences of people who cross bridges and borders in search of a better life – has never been more timely or important. By uniting sociology, education, and other social science disciplines, Roberto helps us to understand the lives and experiences of some of our nation's most vulnerable people: immigrant and undocumented youth. As our society grapples with its painful history of racism and debates how to advance racial equity, Roberto's work provides an opportunity for us to delve deeply into what our treatment of these young people says about us, our society, and our world."
Gonzales is currently Professor of Education at the Harvard Graduate School of Education and Director of the Immigration Initiative at Harvard University. His award-winning scholarship assesses how immigration policy shapes the ways in which immigrant youth adapt, come of age, and experience life in their receiving countries. His landmark book, Lives in Limbo: Undocumented and Coming of Age in America (University of California Press, 2016), followed the trajectories of 150 undocumented young adults in Los Angeles across 12 years. It has won eight major book awards and been adopted as a common reading text by universities and school districts across the country. Most recently, he led a national longitudinal study of the Deferred Action for Childhood Arrivals (DACA) Program and a collaborative study of educators' responses to immigration issues in their schools and communities.
Gonzales' work has been featured across leading scholarly journals – such as the American Sociological Review and Current Anthropology – and such media as the New York Times, Washington Post, and Wall Street Journal. His research has been widely supported by the MacArthur Foundation, Gates Foundation, and Russell Sage Foundation, among many others. In addition to Lives in Limbo, he is co-author of Undocumented Migration (Polity Press, 2019), Within and Beyond Citizenship (Routledge, 2017), and the forthcoming The Growing Significance of Place: Assessing the Diverging Trajectories of DACA-Eligible Young Adults (University of California Press). He has taught at Harvard since 2013, following earlier positions at the University of Chicago and the University of Washington, and earned a PhD and MA in Sociology from the University of California at Irvine, an AM from the University of Chicago School of Social Service Administration, and a BA in Sociology from Colorado College.
"The pioneering work of Roberto Gonzales," said Provost Pritchett, "exemplifies Penn's commitments to using innovative research and ideas to make a significant, tangible impact on peoples' lives and to positively influence responses to the most urgent challenges of our contemporary world. He will be a galvanizing presence not only on our campus but also in our Philadelphia community, a community that has been energized by generations of immigrants from diverse backgrounds and perspectives."
The Penn Integrates Knowledge program was launched by President Gutmann in 2005 as a University-wide initiative to recruit exceptional faculty members whose research and teaching exemplify the integration of knowledge across disciplines and who are appointed in at least two Schools at Penn.
The Richard Perry University Professorship is a gift of Richard C. Perry, a 1977 graduate of the Wharton School who founded the investment management firm Perry Capital. He is a University Trustee and a former member of the Undergraduate Executive Board of the Wharton School. His 2005 gift created the first four Penn Integrates Knowledge University Professorships.