Beth Simmons
Beth Simmons is the Andrea Mitchell University Professor of Law and Political Science. With appointments in the School of Arts & Sciences and Penn Carey Law and a secondary appointment in Wharton, Simmons works at the intersection of international law, political science, and human rights.
International Law & International Relations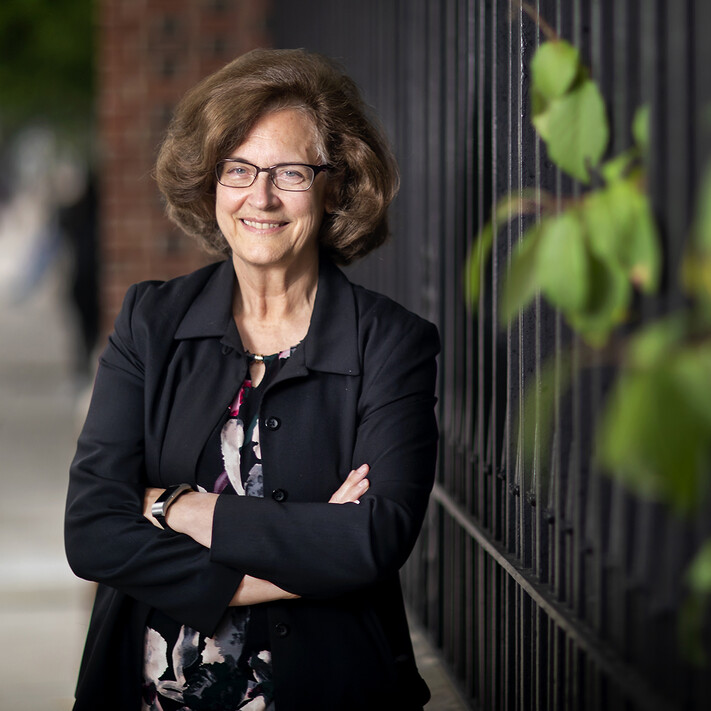 Beth Simmons is widely recognized as one of the world's top specialists in international affairs. Her award-winning work has redefined scholarship—and influenced policy—in international political economy, the influence of international law on human rights outcomes, and policy diffusion. She is also a universally-admired teacher and mentor who has helped countless students launch their own illustrious careers.
Distinguished by her creativity and independence of thought, Simmons was among the first to identify global policy diffusion—the process by which economic ideas and policies spread throughout the world. Her work on this issue has markedly advanced contemporary understanding of the influences at play in foreign economic policy transitions.
Simmons also dispelled the widely-held erroneous belief that international law is ineffectual against pervasive human rights abuses. Her award-winning book, Mobilizing for Human Rights: International Law in Domestic Politics, has been called the most thorough empirical analysis of the effect of human rights treaties to date, and as such has profoundly impacted policymakers' understanding of how international law can be used to meaningfully alter state behavior and protect human rights.
Former director of Harvard's Weatherhead Center for International Affairs, Simmons has worked at the International Monetary Fund, served as president of the International Studies Association, and has presented her research in numerous peer-reviewed journals, conferences, and panels around the world. Her extensive experience and internationally-heeded voice edge her ever closer to realizing her enduring goal of securing human rights across the world.
With appointments at Penn Carey Law and the School of Arts and Sciences, Simmons' extraordinary ability to bring inter-disciplinary knowledge to bear on global policy challenges promises to catalyze international engagement across the University, leveraging Penn's unique strengths to improve and protect the lives of the most vulnerable individuals and communities around the world.
international political economy during the interwar years
global policy diffusion
the influence of international law on human rights outcomes around the world
global performance assessments as informal governance mechanisms in international affairs
international border crossings
international and transnational crime
foreign direct investment law
Books
Mobilizing for Human Rights: International Law in Domestic Politics, 2009
Who Adjusts? Domestic Sources of Foreign Economic Policy during the Interwar Years 1923-1939, 1994.
Edited Volumes
International Relationships in the Information Age, 2012 (With JP Singh)
Handbook of International Relations 2nd ed., 2012 (with Walter Carlsnaes and Thomas Risse) Encyclopedia of International Law, 6 vol., 2008 (contributor)
The Global Diffusion of Markets and Democracy, 2008 (with Geoff Garrett and Frank Dobbin)
International Law and International Relations, 2007 (with Richard Steinberg)
Handbook of International Relations, 2002 (with Walter Carlsnaes and Thomas Risse)
International Institutions, 2001 (with Lisa Martin)
Academic Writings (Selected)
"Can the International Criminal Court Deter Atrocity?" With Hyeran Jo. International Organization, 70:3 (Summer 2016).
"East Asia, Investment, and International Law: Distinctive or Convergent?" Korean Journal of International Studies, 13:3 (December 2015).
"Ratification, Reporting and Rights: Quality of Participation in the Convention against Torture." With Cosette Creamer. Human Rights Quarterly 37:3 (August 2015).
"Rewards for Ratification: Payoffs for Participating in the International Human Rights Regime?" With Rich Nielsen, International Studies Quarterly 59:2 (June 2015), 197-208.
"Frames and Consensus Formation in International Relations: The Case of Trafficking in Persons." With Volha Charnysh and Paulette Lloyd. European Journal of International Relations 21:2 (June 2015), 323-352.
"Politics by Number: Indicators as Social Pressure in International Relations." With Judith Kelley. American Journal of Political Science 59:1 (January 2015) 55-70.
"The Future of the Human Rights Movement." Ethics and International Affairs 28:2 (summer 2014). 183-196.
For a full list of publications visit Dr. Simmons' CV
Features (Selected)
"Beth Simmons writes on 'Pandemic Responses as Border Politics'," Penn Today, August 27, 2020
"On the Fence: International Borders and the New Political Landscape," Penn News, July 19, 2017
"Beth Simmons Appointed Penn Integrates Knowledge Professor," Penn News, July 12, 2016
"Simmons Discusses Her Research and Role at Penn," Penn Law, September 6, 2016
Video 
"Mobilizing Human Rights," Duke University School of Law, March 4, 2010
Andrea Mitchell
Donor
"I got my first taste of interdisciplinary pursuits as a undergraduate at Penn.
What I learned then, and I know for sure today, is that the most important questions do not recognize boundaries. These are the questions that we need to be asking, and the professors who hold these chairs will be asking them. It's an honor to support Penn Integrates Knowledge."
  - Andrea Mitchell
Andrea Mitchell, CW'67 and her husband, Alan Greenspan, HON'98, endowed their first Andrea Mitchell University Professorship in 2007. Five years later, they created a second professorship in Mitchell's name. Andrea Mitchell is Vice Chair of the Executive Committee of the Board of Trustees and is a former chair of the Annenberg School for Communication Advisory Board. She w​​as a founding member of the Trustees' Council of Penn Women and, in 2002, was awarded the University's highest alumni honor—the Alumni Award of Merit.
Professors
Robert Ghrist was named the Andrea Mitchell University Professor in June 2008. 
Beth Simmons was named the Andrea Mitchell University Professor in July 2016. 
Education
PhD., Harvard University (Government)
M.A., Harvard University (Government)

M.A., University of Chicago (International Relations)

B.A., University of Redlands (Political Science and Philosophy) 
Professional Associations & Affiliations (Selected)
National Academy of Sciences, member

American Academy of Political and Social Science, Edward M. Kennedy Fellow
American Academy of Arts and Sciences, fellow
United States Institute of Peace, Jennings Randolph Program for International Peace senior fellow (1996-97)

National Academy of Sciences, human rights committee member
International Studies Association, member (president 2011-12)
Hague Institute for Internationalization of Law, programmatic steering board member
American Political Science Review, editorial board member
Journal of Politics, editorial board member
International Organization, editorial board member (chairman of the board 2008-09)
Polity, editorial board member     
Review of International Organizations, editorial board member
International Interactions, editorial board member
American Society for International Law, publications committee member
Journal of International Dispute Settlement, advisory board member
Princeton Institute for International and Regional Studies, advisory council member
American Society of International Law, executive council member
Additional Penn Profiles
Contact
Penn Arts & Sciences
3803 Locust Walk
Perry World House
Philadelphia, PA 19104
215.573.8018
Penn Carey Law
Silverman Hall
3501 Sansom Street
Philadelphia, PA 19104
215.573.8018
simmons3@law.upenn.edu