Herbert Hovenkamp
Herbert Hovenkamp is the James G. Dinan University Professor, Professor of Law, and Professor of Legal Studies and Business Ethics. With appointments in Wharton and Penn Carey Law, Hovenkamp works at the intersection of antitrust law, legal history, business, patents, and innovation
Law & Business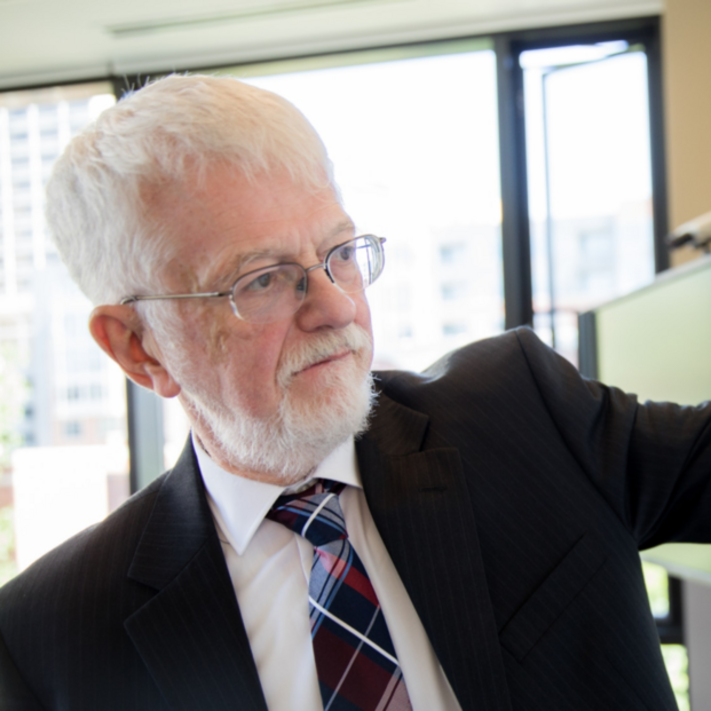 Herbert Hovenkamp is internationally known for his scholarship on antitrust law and policy: award-winning work that has guided numerous federal and Supreme Court decisions, shaping the course of legal history. Hovenkamp is also an award-winning teacher whose mentorship has helped many students prepare for illustrious careers as lawyers and judges in courtrooms across the country.
Dubbed "the dean of American anti-trust law" in a 2011 New York Times article, Hovenkamp received the 2008 John Sherman Award from the Antitrust Division of the Department of Justice in recognition of his extraordinary contribution "to the protection of American consumers and to the preservation of economic liberty." He is an appointed fellow in the prestigious American Academy of Arts and Sciences and American Council of Learned Societies.
Hovenkamp's dozen-plus books include the landmark 21-volume treatise, Antitrust Law, which is the most-cited anti-trust authority in the country. Federal courts have cited this treatise in the determination of more than 1,000 cases, including more than 50 by the U.S. Supreme Court. Co-authored in 1978, it has been in print for nearly four decades, through four editions and ongoing annual supplements that keep the seminal work up to date.
With appointments at Wharton and Penn Carey Law, Hovenkamp will leverage the full breadth of his interdisciplinary knowledge to understand and anticipate the evolution of antitrust law as it applies to the changing landscape of business, innovation, and technology.
Antitrust Law
Torts
20th Century American Legal History
Innovation and Competition Policy
Intellectual Property Law
Business History
Books
Antitrust Law (21 volumes) 4th ed., 2016 (with the late Phillip Areeda and the late Donald Turner)
The Opening of American Law: Neoclassical Legal Thought 1870-1970, 2015
Creation without Restraint: Promoting Liberty and Rivalry in Innovation, 2012 (with Christina Bohannan)
Federal Antitrust Policy: The Law of Competition and its Practice, 5th ed., 2015
The Making of Competition Policy: Legal and Economic Sources, 2013 (ed., with Dan Crane)
The Antitrust Enterprise: Principle and Execution, 2006
Enterprise and American Law, 1991
IP and Antitrust: An Analysis of Antitrust Principles Applied to Intellectual Property Law, 3rd ed., 2017 
Innovation and Competition Policy: Cases and Materials, 2nd ed., 2013
Fundamentals of Antitrust Law, 4th ed., 2011
Antitrust Law, Policy, and Procedure, 7th ed., 2014 (with E. Thomas Sullivan, Howard Shelanski, and Christopher Leslie)
Economics and Federal Antitrust Law, 1985
American Property Law, 6th ed., 2012 (with Carol Brown)
The Law of Property: An Introductory Survey, 7th ed., 2014 (with Kurtz and Gallanis)
Science and Religion in America: 1800-1860, 1978
Academic Writings (Selected)
"Appraising Merger Efficiencies," Faculty Scholarship 1762 (2017)
"The Progressive State," 102 Iowa Law Review 1063 (2017)
"Roger Blair and the Goals of Antitrust," Antitrust Bulletin (2016)
"Buying Monopoly: Antitrust Limits on Damages for Externally Acquired Patents," Texas Intellectual Property Law Journal (2017) (with Erik N. Hovenkamp)
"Re-Imagining Antitrust: the Revisionist Work of Richard S. Markovits," 94 Texas Law Review 1221 (2016)
"Patent Exhaustion and Federalism: A Historical Note," 102 Virginia Law Review Online 25 (2016)
"The Emergence of Classical Patent Law," 58 Arizona Law Review 263 (2016)
"Antitrust Balancing," 12 NYU Journal of Law & Business 369 (2016)
"Antitrust and Information Technologies," 68 Florida Law Review 419 (2017)
"Intellectual Property and Competition," in Research Handbook on the Economics of Intellectual Property (2016)
"Patent Pools and Related Technology Sharing," in Cambridge University Press Antitrust Intellectual Property and High Tech Handbook (2016) (with Erik N. Hovenkamp)
For a full list of publications visit Dr. Hovenkamp's CV
Features (Selected)
Videos (Selected)
James G. Dinan
Donor
James G. Dinan, W'81, and his wife, Elizabeth Miller, created the James G. Dinan University Professorship in 2015.  James Dinan is a member of the University of Pennsylvania Board of Trustees and a member of the Board of Overseers for the Wharton School.
Professor
Herbert Hovenkamp was named the James G. Dinan University Professor in July 2017.
Education
J.D., University of Texas School of Law
PhD., University of Texas (American Civilization)
M.A., University of Texas (American Literature)
B.A., Calvin College 
Professional Positions & Affiliations (Selected)
American Academy of Arts and Sciences, fellow
American Council of Learned Societies, fellow
American Society for Legal History, member
GMU School of Law Global Antitrust Institute, advisory board member
UCL Centre for Law, Economics, and Society, advisory board member
The Source on Healthcare Price and Competition, board member
Competition Policy International, editorial board member
Journal of Competition Law and Economics, advisory board member
Harvard UP, Oxford UP, Yale UP, Aspen Pub., MIT Press, Routledge, Edward Elgar Pub., Journal of Legal Studies, Yale Law Journal, Harvard Law Review, Stanford Law Review, Iowa Law Review, referee 
Additional Penn Profiles
Contact
Penn Carey Law
150 Silverman Hall
3501 Sansom Street
Philadelphia, PA 19104
215.573.6018
hhovenka@law.upenn.edu
Wharton
600 Jon M. Huntsman Hall
3730 Walnut Street
Philadelphia, PA 19104
215.573.6018
hhovenka@wharton.upenn.edu